Introduction
Let's face it, most users live in their Outlook Inbox. When our client asked us for ideas on how we could streamline updating bid details, we suggested the implementation of an Outlook add-in. The add-in allows users to quickly keep track of bids, update status, enter comments, set follow up dates – all within their Outlook Inbox.
Let's explore the client's needs and how the add-in was developed and implemented. We developed a SharePoint bid and project registry that was doing a great job maintaining a structure for project and bid data and feeding into the reporting process. But our client was looking for a way to find, manage, and file information that was faster and simpler than loading a page in their web browser. There were several common tasks and information needs identified that are critical to project management and estimating, including:
Job information
Client contact information
Historical view of actions and communications
The ability to quickly log interactions with a client or prospect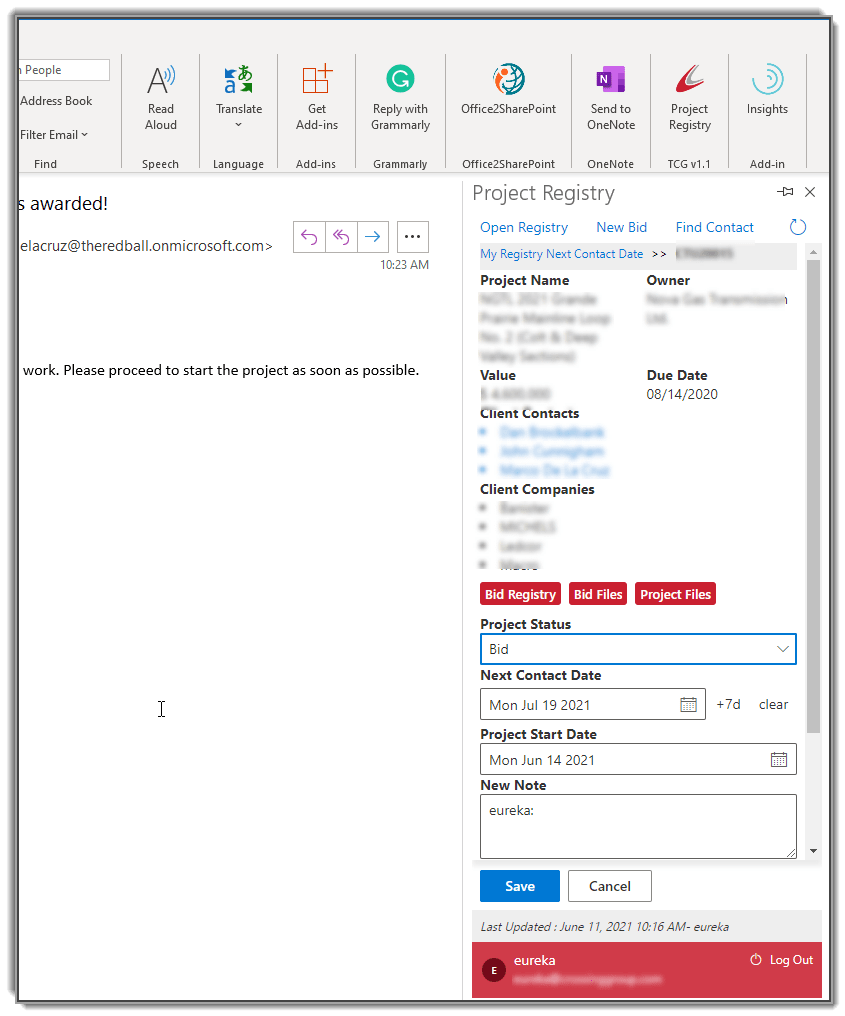 On opening the add-in, project managers and estimators see a list of bids and projects with follow-up dates, each with a colour-coded icon indicating the follow-up status. Viewing contact information, modifying statuses and due dates, and interacting with project notes is as simple as opening an add-in pane item. Plus, links at the top of the pane point directly to the bid and project registries in SharePoint if less-commonly accessed fields need updating.
Eureka developed an Outlook add-in with functionality that focused just on the client's needs and that brought all this right to one panel on the side of a user's inbox. The bespoke solution tied the client's SharePoint project registry into an easy to access Outlook add-in using React, Azure Functions, and Microsoft Graph API calls. Job information management has never been faster or easier. Single sign-on using Microsoft 365 credentials makes accessing the tool a breeze.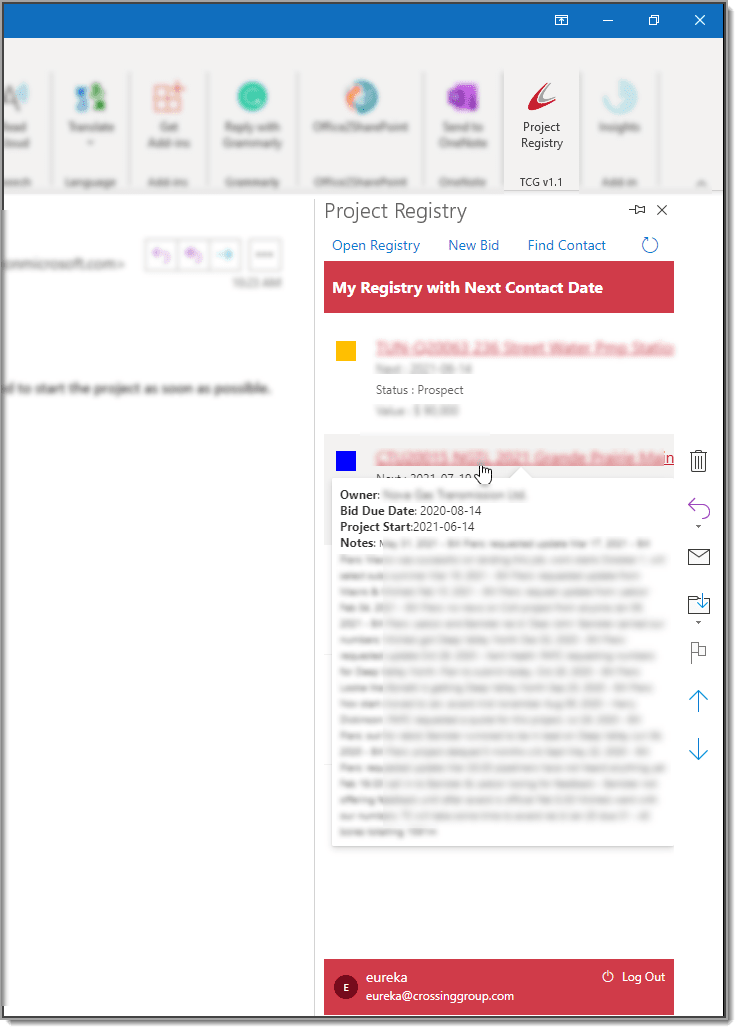 Not only does the Outlook add-in make data easier and faster to enter in the database, it has also proved to be an incredible time saver. The estimators can do the same work 80% faster with the add-in rather than using SharePoint forms.  In addition, because the add-in seamlessly integrates with the Outlook mobile app, users can update entries while on the road. The client is thrilled with this useful tool that brings value to their organization by improving communications with clients. More consistent client dialogue and follow up may also result in more projects awarded.