In celebration of Clean Out Your Inbox Week, we're compiling a few handy inbox cleaning tips that will help you clean your inbox (and hopefully, keep it clean!)
While most of us want to have an uncluttered email inbox where we've saved the most important and relevant messages, sometimes it gets away from us. This week's first tip will help you cut through the noise by finding messages from senders that aren't important and getting rid of them quickly.
Inbox Cleaning Tip #1: Searching by Sender
Our first tip of the week is about identifying senders that mostly send unimportant messages, like marketing emails, or status updates that can be found somewhere else, like a project management tool or repository.
This is an easy one. All you need to do is figure out who these senders are and scroll through your inbox. When you see a message from this sender, right click on the email and click "Find Related" from the menu that comes up. Then, select "Messages from Sender" from the submenu. All the emails you've received from that sender will display.

You can select all the messages by using CTRL + A, or select the ones you want by holding CTRL and clicking the individual messages.
What's next? Send those emails to your trash folder! Delete them by hitting the Delete key on your keyboard, or right-clicking on any of the messages and selecting "Delete" from the menu.
That's our first tip for the week. We'll be adding more Inbox Cleaning Tips to this post, so stay tuned throughout the week. If you have questions or comments, don't be shy—leave us a reply using the comment box at the bottom of this page. 
Inbox Cleaning Tip #2: Using Rules to Automate your Inbox
Our second tip this week for keeping your inbox clean is about setting up rules in Outlook that will categorize, move, or delete emails for you.
To create a rule, go to the Home tab on the ribbon in Outlook, and click Rules > Create Rule. From here, you can choose to move messages from a certain sender or a certain email address to a certain folder.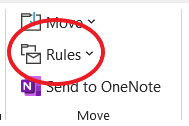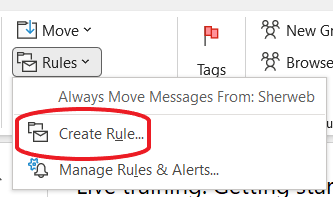 When you create a rule, a dialog box with a number of options will pop up. These options will be based on the email you had selected when you opened up the Rules menu. You can choose from a few pre-selected options, like moving all the items from the sender or all received items that have the same subject as the email you've selected.
Next, you'll choose what you want the rule to do. You can move all emails that meet the selected criteria to a folder of your choosing. You can make sure that you don't miss anything important (from a VP, maybe, or a critical client) by playing a sound or adding the message to the New Item Alert window. It's totally up to you!
One way that I use rules is to move all the marketing emails that I want to read (eventually) into their own Marketing Emails folder. That way, I can still check out the news and updates from companies I have accounts with, but it doesn't clog up my inbox and make it more difficult to see what's going on in my day-to-day.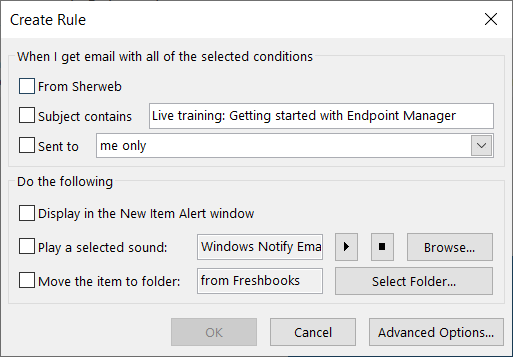 If you want to set up rules that are more complicated than the first few options displayed on the Create Rule dialog box, click Advanced Options at the lower right corner of the dialog box. This will open up the Rules Wizard, where you can get really creative (and specific) with what you want your rules to do. 
Get a lot of project update emails that have a specific project number or code referenced in the body of the email? Add that as a condition to the rule. You can also also segment out emails where you're not the direct recipient and direct those to their own folder. 
 There are many more options in the Rules Wizard than what the screenshot shows here, but this gives a general idea of what you can do with rules and how they can help to keep your inbox more organized. Plus, you'll be able to get so much done with your new laser-focus!
Have questions about working with rules in Outlook or Outlook in general? We're here to answer them all! Leave us a comment below or send us an email.
Don't miss out on our final tip of Clean Your Inbox Week, coming on Friday.