Ant Text
Streamline your communication and create your branding identity with Ant Text one-click templates.
Learn more...

Ant Text takes your emails to the next level
Insight Office's Ant Text is a Microsoft Outlook add-in that makes you more efficient. With it you can write your emails easier and faster. Use it to:
Ensure quality and consistency in your organization's emails via shared templates
Add more value to your email signatures with top banners
Improve your company or personal brand
Create and send event notices and newsletters to targeted groups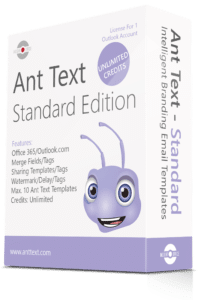 Ant Text Awards
The Ant Team has been awarded Microsoft Silver certificates for:
ISV (Independent Software Vendors)
Small and Midmarket Cloud Solutions
Email Management
This is an email e-Sales and communication tool for companies that want to be more efficient, dynamic, and reduce branding errors throughout their company email.
Modern Workplace
The email templates are stored directly in your Microsoft Outlook and ready to use. Share your templates with one click to the rest of your organization and streamline your communication.
Professional Templates
Create top banners for your email  with pictures, links, videos etc. We believe that email branding starts from top and down. Build cohesion between the visual look and your company's identity.
How can we help you?
Whether you're looking to improve your efficiency with your existing Outlook setup or get started with it, we're ready to help.